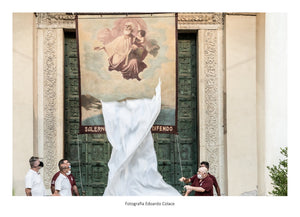 The light to the cloth of San Matteo has been laughing
The San Matteo cloth returned to the Duomo after a substantial restoration lasted 4 months.
The work on the cloth have been supported by the Inner Wheel Salerno Carf Association and from Vassallo Antiques and performed by the Daniela Mellone restorer Director of the work of the company of Montecorvino Ruolella, a company accredited by the sopraintente Archeology, fine arts and landscape of Salerno and Avellino.
Restoration intervention has laughed light to the back-painted painting depicting Sant'Anna, San Jacchino and the Virgin girlfriend and returned a clearer reading to the figure of San Matteo on the front, being in some areas steeped. Both paintings were made with oil colors directly on canvas, without any layer of preparation.
The consolidation operations, both structural and pictorial film, were performed first with a temporary consolidation to re-establish the flatness of the canvas, and then final when all the fragments are combined. After consolidation, cleaning and removal of reidents, wax paint was performed.
Restoration intervention reported to the Antico splendor the cloth.